For All Your Residential Window Cleaning Needs, The Choice is Clear.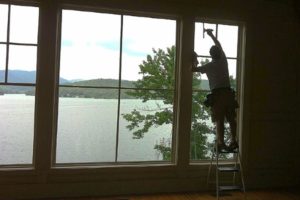 Here at All Clear, we understand that not everyone has the time or resources necessary to clean their windows on a regular basis. Oftentimes, there are windows that even a standard ladder cannot reach and most homeowners don't have regular access to lifts or pressure washing equipment.
At All Clear, we have both the experience and the tools to get your home's windows clean and clear. Our trained professionals have the right tools and equipment to thoroughly clean your home's windows, especially those hard-to-reach areas which can always be challenging if not a bit of a safety risk.
Why Choose All Clear Residential Window Cleaning?
With over 20 years of experience, knowledge, and thorough training, we are proud to say that in Athens and Greenville, we are one of the best (if not the best) local window cleaners around.
We're not just good at our jobs but we always make it a habit to communicate with our clients constantly and set their expectations on the task at hand before, during, and after each window cleaning project.
We go above and beyond what's expected from us. In many cases, our crews will spot issues with windows or home exteriors that are in need of repair that the owners didn't even know existed. We know that our clients can't reach these places, so we serve as their "eyes in the air" to ensure their home exterior is in perfect shape.
We are also fully insured with workmen's compensation and general liability for your protection.
What is Used for Residential Window Cleaning?
In order to be the best residential window cleaning provider, one must possess the necessary skills, training, and eye for detail. It's also all about using the right tools and products to get the job done.
All Clear uses a combination of professional squeegees and equipment from Unger, Sorbo, Pulex, and other manufacturers for our window cleaning services.
These soft compound rubber squeegees allow for window cleaning to be professionally done without leaving streaks, yielding a clear shine all the time
Lifts, ladders, and rope access are utilized to reach homes that are multiple stories. This allows us to take on projects that other companies might not accept and this gives us a significant edge over our competitors.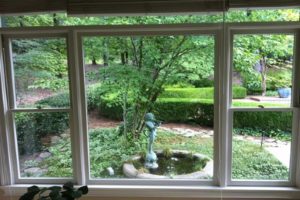 Is Professional Window Cleaning Worth It?
People often say "we don't need a professional to clean our windows, we'll do it ourselves" but, whether they want to admit it or not, windows are often left uncleaned and taken for granted.
The very first aspect that puts people off when it comes to employing the services of a professional window cleaning company is the cost. However, window cleaning services are not as costly as one might think.
On the contrary, getting your windows cleaned and maintained regularly will save you big bucks in the long term. Deep cleaning can help to remove any buildup from dirt, spiderwebs, leaves or other debris. A professional cleaning service can actually undo a good bit of the damage that has happened over time and help you prevent the problems that come with the extensive buildup of dirt and debris on windows.
Clean and regularly maintained windows help keep you, your family, and your property secure. You can't put a price on peace of mind, can you?
Frequently Asked Questions (FAQ)
How Much Should I Pay to Have my Windows Cleaned?
On average, professional window cleaning costs $150 to $350 with homeowners usually spending around $250 to clean the entire house.
What Time of Year is Best for Window Cleaning?
Spring is considered the best time of the year to get your windows cleaned. This is due to the fact that most windows don't get any attention during winter.
This is when your windows build up a lot of dirt, pollution, and all sorts of debris, and cleaning them come springtime will get the most out of your buck.
What Happens if you Don't Clean your Windows?
A lot of undesirable things can happen if your windows are left uncleaned. Dirt, grime, dust, and all sorts of debris can accumulate so they will not only undermine the integrity of the structure of your windows but also become a hotbed for allergens.
Your windows will deteriorate and be a safety, security, and health risk for everyone living in the house.
How Often Should a Window be Cleaned?
Usually, homeowners should have windows cleaned twice a year. It would also depend on the weather and pollution of your region or if you are located in a busy area. For example, houses and buildings in busy cities would have a different requirement for window cleaning compared to the ones located in the countryside.
What are Some Popular Services for Window Washing?
Hard water removal, interior and exterior window cleaning, glass door cleaning, and screen cleaning are some of the most popular window washing services today.
Your View is in Great Hands with All Clear.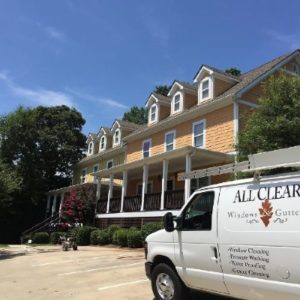 You might clean your windows yourself but take note that it can get tedious and take up a huge chunk of your time. Not to mention that you might have to invest in your own tools and materials and endanger yourself in the process. In spite of all that, a professional's touch on window cleaning is just different.
With the right tools, training, and materials, a professional window cleaner will thoroughly clean your windows and prevent further damage to your home. You don't have to do the heavy lifting yourself and can focus on other chores around the house.
If you are living in the Athens, Watkinsville, Lake Oconee, or Eatonton area then please contact All Clear today.
We run a dependable business with a strong reputation of over 20 years of cleaning experience. Here at All Clear, our clients know that their view is in great hands.
Interested in Getting a Quote for Window Cleaning for Your Athens, Lake Oconee or Greenville Home?
For expert window cleaning services for either your home or business establishment, please don't hesitate to contact us so we can get you started with a free quote. Our trained, experienced, and professional crew is always ready to bring that window view back to life.