Residential Pressure Washing Services
A dirty surface outside of your home or on your driveway and sidewalks can be overwhelming. Dirt, mildew, and erosion build-up are incredibly frustrating to remove, even with extreme scrubbing. If you're looking for the best option to solve this in Athens, Greenville or Lake Oconee, you've come to the right place. All Clear Exterior is here to take the stress out of pressure washing your home!
Pressure washing takes skills, but it can also be dangerous if you're not exercising caution. Many homeowners take the DIY approach with their own homes, but pressure washing takes knowledge and precision. That's why you should consider seeking the help of professionals. We are an experienced and trustworthy pressure washing company right here in Athens and Greenville.
Types of Pressure Washing Services
We understand how necessary it is to have the exterior of your house free of stains and material build-up. These areas can be unsightly, often slippery, and detrimental to you and the value of your property. These stains also damage wood surfaces and deteriorate the overall quality of your home.
All Clear Exterior is committed to expert cleaning. We have been serving Athens and its surrounding areas for over 20 years and have the skillset and tools to get your home pressure washed and looking brand new!
High-Pressure Residential Pressure Washing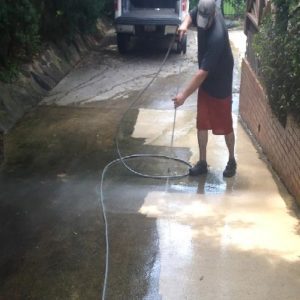 Extensive mold and mildew can build up fast. It can be found almost anywhere including your sidewalks, driveways, house siding, and even in gutters and on the roof. If you haven't done any intense cleaning at all, this is the time to experience our pressure washing using high-pressure.
High-pressure washing is a tremendous option to quickly remove any material that has accumulated in surfaces over the years. May it be wood, traditional stucco, steel, or brick, our high-pressure pressure washing services take care of multiple hard surfaces.
Because of the high intensity of pressure, our professional team takes extra measures in handling the pressure washer to avoid any injury or damage.
Low-Pressure Residential Pressure Washing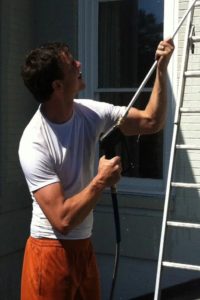 Some homeowners worry that pressure washing will force them to repaint all over again. We know situations like this are a concern. At All Clear Exterior, we assess the area first to see if there is a need for high-pressure washing.
If not, we also provide pressure washing using low water pressure. The process of low-pressure washing involves allowing our biodegradable and eco-friendly chemicals to settle on the surfaces first. This loosens any stubborn mold and dirty grime living rent-free on paintable surfaces. When the chemicals settle, our team then scrubs away pollution and dirt before using minimal pressure to remove any build-up left.
Driveways and Sidewalks
One common area of a residential property that often needs high-pressure washing is the driveway (and any sidewalks you may have). This kind of area is often exposed to liquid, foot traffic, and heat, so dirt that has accumulated there can be pretty hard to remove.
Depending on the location of your Athens home, or the severity of dirt build-up, All Clear Exterior is here to evaluate what type of pressure washing is needed for your exterior walkways.
Why Choose All Clear Residential and Commercial Cleaning?
All Clear has been in the industry for more than 20 years and has established the best professional cleaning services across Athens, Georgia. Our customers can expect excellence with our competent pressure washing services.
We offer outstanding communication with all of our customers and always go above and beyond to get the job done to the highest standard.
Our services are inclined with any structural design and building in the Athens market. We use lifts, ladders, and ropes to access rigid corners around your house or hard-to-reach spots that need cleaning. We take every job seriously, that's why our services are far above other pressure washing companies out there.
The Process of Pressure Washing a Home
Step One: Determine the service plan needed for your home. If the area is unreachable by hand or you cannot determine whether you need low-pressure or high-pressure, our team can take care of assessing what kind of pressure washing you need.
Step Two: After determining the service plan, it's time to get a quote from us. Getting a quote includes identifying how much surface area needs to be cleaned, and if there will be a need for regular maintenance.
Step Three: This is the part where cleaning and satisfaction meet. Using equipment, and biodegradable and environmentally safe chemicals, professionals will remove mold, mildew, and dirty grime from home surface or driveways and sidewalks.
Step Four: We finish our service by giving an all-around clean-up of the area.
Step Five: When the job is done and you're satisfied with the work, we establish a billing and payment plan.
How Much Can You Expect to Pay for Pressure Washing Services in Athens or Greenville?
The cost of pressure washing services generally ranges from $150 to $350. This price range varies depending on the square footage of the area that needs pressure washing and the material being cleaned. This means that the larger the size and the dirtier the surface, the more effort is required.
However, getting a quote is the best way to get an accurate price for pressure washing services.
Frequently Asked Questions (FAQ)
When is a Good Time to Pressure Wash Your Home?
You can hire someone to pressure wash your home the moment dirt build-up is visible. Dirt can be a perfect home for mold and bacteria to reproduce. If left unattended, pressure washing may require more time to remove these things from surfaces.
What PSI is Good to Pressure Wash a House?
For concrete and brick surfaces, a setting of 2,500 to 3,000 PSI is needed. For specific surfaces like sidings and decks, a good 1,500 PSI or less can be used. For soft materials like thin wood, a low pressure is required so it cleans the surface but does not damage it. Pressure should be around 500-600 PSI.
Do I Need Soap to Pressure Wash a House?
Occasionally, deep cleaning needs soap in order to remove tough dirt and mold. We recommend biodegradable and environmentally-safe chemicals when pressure washing your home.
What is the Difference Between High-Pressure and Low-Pressure When it Comes to Pressure Washing?
High and low pressure washing, naturally, vary in pressure. The one used depends on the material type and requirement for cleaning. Concrete and bricks require high pressure. Softwood only needs low-pressure.
Can I Pressure Wash my House Myself?
Pressure washing your home yourself is only advisable if you have a thorough knowledge of the equipment used and you take all the correct safety precautions. High-velocity pressure can cause damage to your property and even yourself if not handled appropriately. Hiring professionals like our team at All Clear Exterior, guarantees the job is done right and with correct care.
How Often Should I Pressure Wash my Sidewalks or Walkways?
Many factors play into this, including curb appeal, location of home, erosion and safety. However, it is advisable to consider doing this annually. At many residences, dirt or mildew can build up and create safety hazards on the walkways surrounding the home. Regular maintenance ensures your walkways are both clean and safe to use.
Gain a Clear Path to a Better Looking Home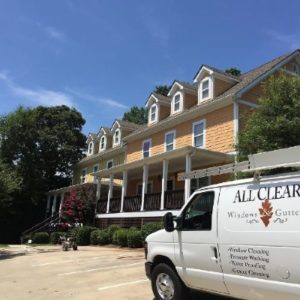 Maintaining the cleanliness of your house and other exterior areas is key to making your home look great and last longer. Doing it yourself takes time and often can be limiting depending on the size or scope of the work. Hiring a professional gives you peace of mind knowing the job will get done to completion and with little effort on your part.
Our company services the Athens, Watkinsville, Lake Oconee, Greenville and Eatonton areas. If you live in these areas, do not hesitate to contact us for your professional pressure washing needs!
Interested in Getting a Quote for Pressure Washing Your Athens area or Greenville area home?
Want a free quote for residential pressure washing service? Call us at 770-617-2526. You can also send us an email at allclearmaintenance@gmail.com or get in touch via our website.