Residential Gutter Cleaning Services
For the long-term protection of your home, rain gutter and roof cleaning services are a must.
Cleaning your gutters and maintaining them can assist in safeguarding your home from things like water damage, mold growth, and even rodent or pest infestation. At All Clear, we provide gutter cleaning services that include not just the gutters, but roof, downspouts, and fascia boards.
For more than twenty years, the All Clear Exterior team has provided outstanding service to residents in the Athens and Watkinsville areas, as well as Greenville, Eatonton, Greensboro and Lake Oconee.
Why Consider Gutter Cleaning in Georgia?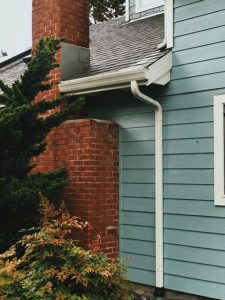 Gutter cleaning is an integral part of home maintenance, regardless of your location. However, the level of service may vary depending on the location of the home. For example, if you live in a rural area with trees surrounding your home, you will likely need more frequent gutter cleanings than someone in a suburban area, downtown or the city.
If you live in a rural area, we often recommend that gutters are cleaned at least twice a year. This isn't always the case and an assessment and quote would be best to determine an actual service plan. If you often have leaves and other debris building up on your roofline, you may consider seeking quotes. Leaves, sticks and other debris being left in gutters and on rooftops can lead to long term damage and even heavy expenses if repairs are needed for damaged roofs, gutters or fascia.
Routine gutter maintenance takes time and presents a number of risks for homeowners. Accessing the roof, gutters and downspouts requires ladders and other tools and can be dangerous if you lack the experience or proper equipment. A professional gutter cleaning company has both the tools and experience to do the job safely and efficiently.
Another part of gutter maintenance often overlooked is the cleanup. A gutter cleaning company should always be sure the exterior of your home isn't affected by the debris removed from the rooftop and gutters. Leaves and other debris should be blown away from your yard and driveway once the job is complete. At All Clear, we never leave the job without the customer being fully satisfied with the final result.
Gutter cleaning is a challenging task, so be sure to choose an insured and bonded company. This will protect you and your home if something goes wrong while the crew is on your property. It's also essential to ensure that the company has adequate liability insurance if someone gets injured while they are working.
Why Choose All Clear Exterior for your Gutter Maintenance?
All Clear Exterior has established its reputation as one of the best gutter maintenance companies in our area through our 20+ years of knowledge and our thorough training processes. We are proud to be one of the most trusted residential and commercial cleaning service providers in our area. Our trained experts are passionate about providing high-quality results for all of our residential clients.
We pride ourselves in keeping open communication with clients before, during and after their gutter cleaning service. Oftentimes we alert our customers to issues they are not even aware of such as a need for soffit or fascia repair. We also have lifts, ladders and rope access to reach any home in the Athens market. This allows us to take on projects that other companies might not be able to access.
At All Clear, we take pride in our work, and we will go above and beyond to ensure your satisfaction.
What is Involved with the Gutter Cleaning Process?
Step 1: The first part of the process is establishing a residential gutter service plan that suits your home – this is primarily based on location and level of maintenance required.
Step 2: Next, you will determine a quote based on a one-time service or semi-annual plan. Most companies offer discounts on each gutter cleaning based on frequency.
Step 3: Using equipment, a gutter cleaning service will remove debris, dirt and leaves from your gutters and downspouts that are preventing or slowing down the flow of rainwater from roof to the ground.
Step 4: Clean-up any debris around the exterior of the home and properly dispose of it.
Step 5: Billing and payment plan established for your gutter maintenance
How Much Can You Expect to Pay for Gutter Cleaning in Athens, GA?
The average cost of service ranges from $70 up to $300 or more, depending on the size of your property and the number of stories it has. Unlike a one-time price, a seasonal plan can provide you with a discount on each gutter cleaning.
Frequently Asked Questions (FAQ)
Is Gutter Cleaning Worth it?
As a result of the accumulation of leaves, pine needles, dirt, and other material in gutters, there are at least two compelling arguments for having your gutters cleaned. First and foremost, cleaning out rain gutters ensures that they continue to function correctly, avoiding a leaky roof or water damage to your home's interior or exterior. Second, having clean, free-flowing rain gutters helps reduce the likelihood that rodents or insects take up residence and eventually make their way indoors.
What Time of Year is Best for Gutter Cleaning?
It is generally agreed that the optimum time of year for gutter cleaning is in the fall when the leaves have all fallen from the trees. If you experience more rain than usual during certain times of year, you may find that you need to clean your gutters more frequently to avoid obstructions.
What Do Professionals Use to Clean Gutters?
Most gutter cleaning specialists utilize a combination of scoops, leaf blowers or pressure washing equipment to remove the debris from your gutters. They flush the leaves and other material that has gathered in your gutters and ensure they are flowing properly. It's quick, efficient, and helps keep your gutters free of obstructions and debris.
What is the Easiest Way to Clean Gutters?
Although this is a question of personal preference, many homeowners believe that using an electric leaf blower makes the work go more quickly and efficiently than using alternative methods. It is possible to use a blower to clear up loose debris and get it out of your gutters quickly.
Can I Clean Gutters Myself?
If you want to save money, you can definitely clean your gutters yourself with the proper equipment. In the case of gutters located at a high point in your home or presenting any physical problems, it is advisable to employ a professional equipped to do the work.
How Often Should Gutters Be Cleaned?
The frequency of gutter cleaning homes is determined by several elements, including the type of roofing material used, the surrounding climate, and the quantity of precipitation experienced in your location. However, as a general rule, cleaning gutters every six months to a year is a wise decision.
When it Comes to Cleaner Gutters, the Choice is All Clear.
All Clear Exterior is a residential gutter cleaning company that provides high-quality service at a reasonable price. Every task, from modest residences with a few gutters to big estates with a plethora of downspouts and rain barrels, is taken care of by our crew of well-trained professionals. Our crew will clear your gutters without causing any damage to the surrounding landscape or your home. Additionally, while they're up there, they'll look for signs of wear on your home, giving you complete peace of mind.
Our residential and commercial cleaning services are available for customers in the Athens, Watkinsville, Greenville, Lake Oconee, and Eatonton areas. You may be confident in our abilities to increase your home's curb appeal because homeowners and businesses have trusted us for more than two decades.
One of the most important reasons for the continued growth of our company is the excellent communication we provide our clients. To better serve you, we take the time to address any questions or concerns you may have before, during, and after our visit.
Interested in Getting a Quote for Residential Gutter Cleaning?
If you're interested in getting a quote for gutter cleaning for your Athens, Watkinsville, Greenville, Lake Oconee or Eatonton home, please call us at (770) 617-2526 or reach out to us to discuss a gutter cleaning service plan today! Thank you for considering All Clear Exterior as your go-to choice for residential gutter cleaning.